A WORD FOR TODAY 8 APRIL 2020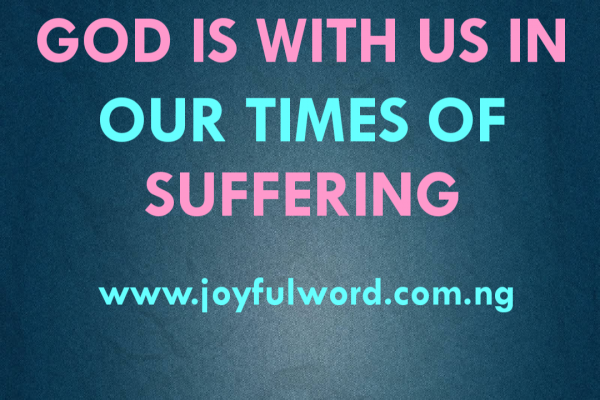 A WORD FOR TODAY
GOD IS WITH US IN OUR TIMES OF SUFFERING
"The Lord God has opened my ear, and I was not rebellious, I turned not backward. I gave my back to the smiters, and my cheeks to those who pulled out the beard; I hid not my face from shame and spitting. For the Lord God helps me; therefore I have not been confounded; therefore I have set my face like a flint, and I know that I shall not be put to shame;" (Isaiah 50:5-7)
There is no denying the fact that suffering is part of human existence. We face it at different times in our lives. Even our Lord Jesus Christ did face the suffering of rejection, persecution and the cross and He has asked us to deny ourselves, carry our cross and follow Him if we intend to be His disciples. (Matthew 16:24-26)
That we will experience suffering in this life from time to time is an indisputable fact and it is unavoidable, but what we do when it comes will really mean a lot. For some, they will cry and lament and even question whether God exists, but for others like the suffering servant of Yahweh which Isaiah talked about in the first reading, they will stay calm, commit their cause to God's hand, because they know that God will turn the pain of their suffering to their gain in due time.
Our Lord Jesus Christ suffered in the hands of the people He had come to save and even in the hands of His disciples through the betrayal of Judas Iscariot, but God did not abandon Him, but was with Him till the end and He was glorified.
We must not let our desire for the things of this world push us to abandon God who will be our real consolation in our times of suffering. Stay with Jesus and let Him be your guide. He suffered and overcame His suffering, therefore if He leads you, you will also overcome your own suffering.
Tap into your moments of pain to gain grace of victory. Never allow your suffering to waste away. Complain less and use that painful moment to build your spiritual strength which will help you to become victorious at the appointed time.
Good morning dearest one. Smile😊as you do your work and do have a beautiful day. May Jesus give you the grace to remain steadfast in your time of suffering and pain. Amen. And may the Almighty God bless you: the Father and the Son and the Holy Spirit. Amen.
Meditation: Isaiah 50:4-9/Psalm 69:8-10,21-22,31-34/Matthew 26:14-25
Watch-Word: In your great mercy, answer me, O Lord.
Do not give up in your times of suffering, stay calm for the Lord will surely come to your aid.*_
(Wednesday of the Holy Week. Cycle A)