A WORD FOR TODAY 8 FEBRUARY 2020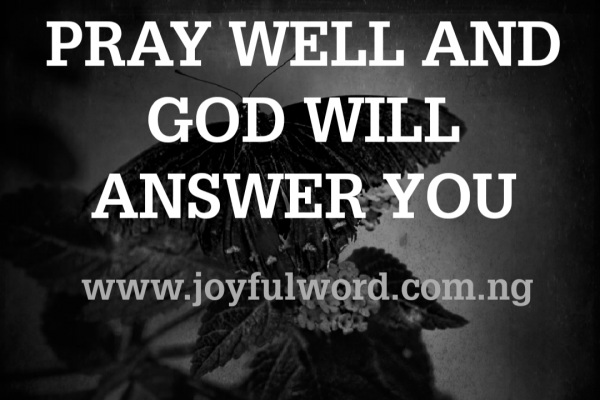 A WORD FOR TODAY
PRAY WELL AND GOD WILL ANSWER YOU
Most times we have so many things in our mind we need to ask God for, but when we finally get the opportunity to speak to Him, we get carried away and we now forget our main need and begin to ask for things that we do not actually need and in this way we spend the little time we have, praying for things that are not necessary.
One of the things that will help us to pray well is to have the gift of wisdom and when opportunity was given to Solomon in the first reading of today to ask of what he wants, he did not waste it, but simply prayed for what he felt is the best thing he needed in order to be able to rule the people. He prayed for an understanding mind and God granted it to him and so much more.*_
To pray well is to pray in a manner that is pleasing to the Lord and to pray in accordance to His divine will. Solomon's prayer was not selfish, but a humble and sincere request of God for what will help him do his work well. Our prayers can only find acceptance in the sight of God and also be answered if we pray well and without selfishness.
Prayer is the key, yes, but if it is not prayed well, we will not receive any answer from the Lord. God knows what will be good for us even before we ask, therefore pray to God from your heart and be humble to ask Him to give to you what will be good for you and not what you feel you desire out of selfishness and conceit.
The power of prayer will help us to do our work well. Jesus asked His disciples in the gospel reading to come over to a lonely place to rest after they had come back from proclaiming the gospel. The quiet time will help them to reflect more and communicate with God who will renew and recharge their energy so that they will be able to do more. Create time out of your schedule to be with God and to rest so that you will have the strength to do much more for Him and for humanity.
Good morning dearest one. Smile😊as you do your work and do have a wonderful weekend. May God hear and answer your prayers when you call upon Him. Amen. And may the Almighty God bless you: the Father and the Son and the Holy Spirit. Amen.
Meditation: 1 Kings 3: 4-13/Psalm 119:9-14/Mark 6:30-34
Watch-Word: And he had compassion on them.
Pray well and work hard and your goodness will bring you eternal reward from God
(Saturday of the fourth week in the ordinary time, Year II)