A WORD FOR TODAY 8 MAY 2020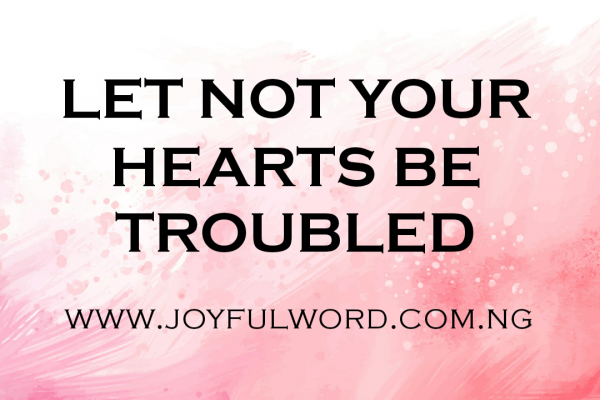 A WORD FOR TODAY
LET NOT YOUR HEARTS BE TROUBLED
"Let not your hearts be troubled; believe in God, believe also in me. In my Father's house are many rooms; if it were not so, would I have told you that I go to prepare a place for you? And when I go and prepare a place for you, I will come again and will take you to myself, that where I am you may be also." (John 14:1-3)
In times of pain and anxiety, In times of trouble and war, In moments of difficulties and confusion, it is always soothing to hear the voice of someone who cares about us, say to us, "do not worry, everything is going to be ok." We may not see anything changing from the status quo, but those words could keep us going till we get to a place of safety.
Now, more than ever, we need to hear these soothing words of Jesus telling us in the gospel reading of today, "Let not your hearts be troubled; believe in God, believe also in me". We need these words of Jesus in this challenging time of covid 19, when morale is down and there is confusion everywhere, conspiracy theories flying here and there and too much fake news. People are hungry, bored and depressed as a result of the lockdown and the economy is at a stand still and places of worship are locked.
This is a time we need to believe in God the more and also to believe in Jesus, not just because we are passing through pain, but more importantly because If we do, we will have the opportunity to live with Him in heaven where He has gone to prepare for us. We must look beyond the solutions to the challenges of this life to the glory and crown of eternal life that will come to us in the end.
We worry because we are human, but we fail to understand that worry adds nothing to our system, but takes a toll on us. We must look up to Jesus in this time of pain and agony and place our trust in Him to see us through. He is giving us assurance that He is with us, therefore we should not worry but put our trust in Him and He will take care of us.
Let not your hearts be troubled, because He will heal our land. Let not your hearts be troubled because He is the hope of the hopeless and He can turn things around even at the dying minutes. Let not your hearts be troubled, because He will never fail. Let not your hearts be troubled even when the sorrows and sufferings of this life overwhelm you. Let not your hearts be troubled even when you seem not to understand why things happen the way they do. Just believe in God and believe in Jesus and He will make all things well in due time
I do not know what you are passing through at the moment. It may be tough with you and things may be rough. I say to you in the words of our Lord Jesus, let not your hearts be troubled, everything will be ok. Jesus will do something for you and your sorrows shall be turned into joy. Never give up on God, because He will never give up on you. keep pushing and at the appointed time you will push through and joy and feasting shall return.
We must come to Jesus today for He is the way, the truth and the Life. He is the way to the Father, He is the way to eternal life. He is the way to to our freedom and breakthrough. He is honest to tell us not to worry, that He has gone to prepare a place for us, but He will be coming back to take us. We must proclaim Him always in this life like saint Paul did in the first reading of today so that when He returns, He will take us to His kingdom where we shall rejoice and enjoy beatific vision forever. Therefore, let not your heart be troubled because this world and all its trouble is passing away, but we have another home in view, where we shall have joy in abundance and there will be no more sorrow and pain, but happiness forever.
Good morning dearest one. Smile😊as you do your work and do have a wonderful day. May Jesus come to your aid and help you to overcome your challenges. Amen. And may the Almighty God bless you: the Father and the Son and the Holy Spirit. Amen.
Meditation: Acts 13:26-33/Psalm 2:6-11/John 14:1-6
Watch-Word: I am the way, and the truth and the life.
Jesus is ready to help us and wipe away our tears if we are ready to come to Him. Believe in Him and everything will be ok.
(Friday of the fourth week of Easter. Cycle A)