A WORD FOR TODAY 8 OCTOBER 2019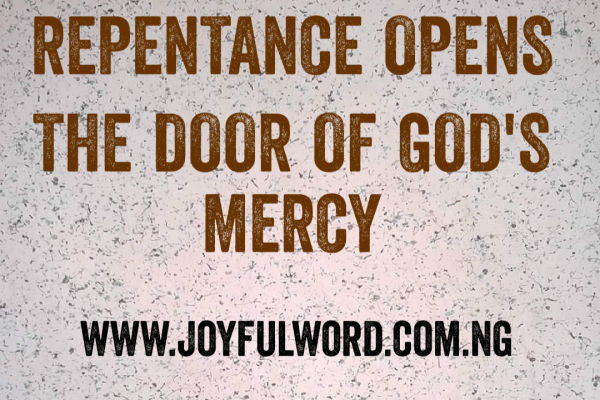 A WORD FOR TODAY
REPENTANCE OPENS THE DOOR OF GOD'S MERCY
We see in the first reading of today that when Jonah finally did as the Lord has instructed, the people of Niniveh listened to the word of the Lord and repented and as a result of that they were pardoned. Jonah was given a second chance to do what is right and the same could be said of the people of Nineveh and this made them to find God's forgiveness.
The word of the Lord they heard through Jonah moved them to humble themselves before the Lord beginning with their king to the least in the kingdom including herds and flock. They acknowledged their sinfulness, wept bitterly for their sins and sought the face of God for mercy and the Lord forgave their sins.
We must learn from this story to always hearken and listen to God's voice calling us back to Himself. We must repent of our sins so as to find God's mercy. God is ready to welcome us back from where we have fallen if we are ready to acknowledge our faults, make amends and return back to Him.
We are all sinners in need of God's mercy. We have all been wounded by sin of thoughts, words and actions. We have wandered away from God's presence as a result of our love of the material things of life more than God Himself who created them. As a result of this we have lost our place in God's presence. However, God does not want us to perish, but to repent so as to find mercy. We must rise like the people of Nineveh and return back to the Lord acknowledging our sinfulness so as to receive God's forgiveness.
There is no need to stay down when you fall into sin, you must rise immediately and seek the face of God. No matter how grave or disgusting your sins may be, God's mercy is supreme and He will forgive you if you will speak the truth to yourself and accept your mistakes, repent sincerely and do some penance.
We must be like Mary in the gospel reading of today who sat at the feet of Jesus and listened to Him. If we hearken to the Lord's voice and do what He commands, we shall find life and He will be our friend always. We must let the word of God dwell richly in us and in that way we shall not be empty to be led astray by the activity and temptations of this life to the extent that we forget God and wander away into sin.
Good morning dearest one. Smile as you begin your day and do have a beautiful day. May God's Word move you to repentance and may you find mercy and forgiveness when you come back to Him. Amen. *And may the Almighty God bless you: the Father and the Son and the Holy Spirit. Amen.
Meditation: Jonah 3:1-10/Psalm 130:1-4,7-8/Luke 10:38-42
*Watch-Word: For with the Lord there is mercy and in him there is plentiful redemption.
Rise up from your sin, seek the face of God with true repentance in your heart and you will find mercy and forgiveness waiting for you.
(Tuesday of the 27th Week in the Ordinary Time, Year 1)