A WORD FOR TODAY 8 OCTOBER 2020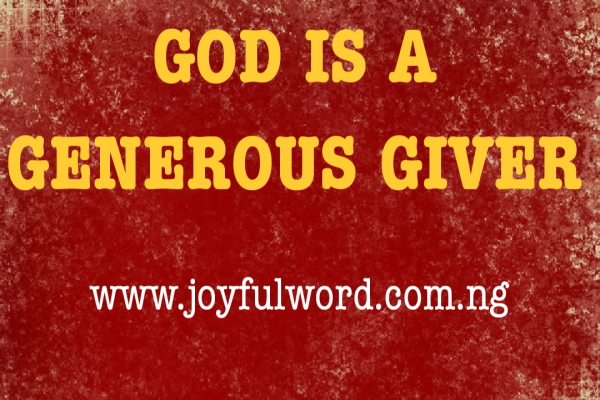 A WORD FOR TODAY
GOD IS A GENEROUS GIVER
"And I tell you, Ask, and it will be given you; seek, and you will find; knock, and it will be opened to you. For every one who asks receives,and he who seeks finds, and to him who knocks it will be opened." (Luke 11:9-10)_
God's availability to His children is never called to question because He is always available to hear His children's supplication when they call upon Him. He has a listening ear and is ever ready to give us what will be good for us.
In the gospel reading of today, Jesus reminds us that God is generous and anytime we have need, we should confidently come to Him, because He will help us and supply all that we shall need.
The generosity of the Lord knows no bounds. He gives, because it is in His nature to give. We do not compel Him to give, but He listens to us and knows our need even before we ask Him. We must always come to Him with faith believing that we shall find help from Him.
God is always available to hear us, but most times, we are the ones that are not available, and we fail to recognize that He alone can help us in our times of need. Now is the time to call upon the Lord, however, you must be ready to accept whatever He will give you as an answer, because He knows what will be good for you.
Ask with faith and you shall receive, seek with faith and you will find, knock and the door will be opened. There is no need to have doubt when you come before the Lord. He knows you before you come, but you must pray with intensity and with persistence, not necessarily to compel God, but to express your readiness and desire to receive blessings from Him. Ask what you need today from God with faith and in His generousity He will give you much more than you desire.
Good morning dearest one. Smile😊as you do your work and do have a beautiful day. May God answer you when you call upon Him. Amen. And may the Almighty God bless you: the Father and the Son and the Holy Spirit. Amen.
Meditation: Galatians 3:1-5/Luke 1:69-75/Luke 11:5-13
Watch-Word: Ask and you shall receive.
Never stop asking, because God is ready to give to you, if you will ask with faith.*
(Thursday of the Twenty Seventh week in the ordinary time, year II)