A WORD FOR TODAY 8 SEPTEMBER 2019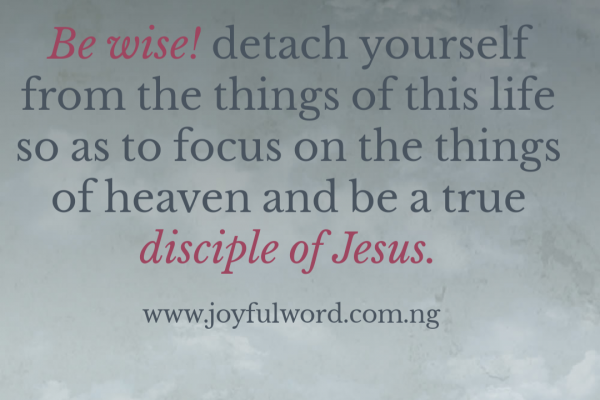 A WORD FOR TODAY
From time to time in life we are confronted with the situation where we are required to make a decision or make a choice. Sometimes, when we fail to make the right choice we will come to live with regret, but if we make the right choice we become happy and fulfilled. In order for us to make the right choice we need God's wisdom and Spirit to be our guide.
Following Jesus comes at a cost and only those who are ready, focused, disciplined and determined will be able to make the choice and be able to pay the price. We need God's wisdom so that we will be able to make the radical choice to follow Jesus everyday and truly be His disciple.
We must be ready to count the cost of discipleship and be willing to pay the price if we are really going to live up to our responsibility as children of God and His disciples. We will make a lot of sacrifice which will involve the cross, rejection, separation, pain and detachment, and this will only be possible when we are guided by God's Spirit and by wisdom.
If you intend to be a disciple of Jesus you must be willing and ready to love Him above family and friends, above work and business, above power and status and earthly glory and above the material things of this life. The life of a disciple of Jesus is modelled after the example of Christ and it is a life that always has the image of the calvary before it. If you cannot detach yourself from the things of this life and carry your cross and follow Jesus, then you cannot be His disciple.
If you choose to be a disciple of Jesus you must be ready to change your attitude towards the material things of this life. We should not allow it to come first in our life, instead we should place Jesus first and live for Him everyday. We must disconnect ourselves from every attachment to the things of this life so as to be able to to focus on things of heaven.
Jesus is calling us today to break the bonds or attachments we have that will make us not to focus on our heavenly goal and mission. We must walk away from hatred, unforgiveness, bitterness, wickedness, envy, jealousy, injustice, unfaithfulness, lies e.t.c We must renounce them and rise up to walk with Him who is inviting us to be His disciples in love. It may not be easy, but He will never leave us to walk the road alone. He will be with us and He will help us to achieve it, however, we must hold unto Him firmly and He must come first in our lives always.
Good morning dearest one. Smile😊as you begin your day and do have a blessed Sunday. May the grace of God help you to live a life worthy of your calling as a disciple of Jesus. Amen. And may the Almighty God bless you: the Father and the Son and the Holy Spirit. Amen.
Meditation: Wisdom 9:13-18/Psalm 90:3-6,12-14,17/Philemon 9-10,12-17/Luke 14:25-33
Watch-Word: Whoever does not bear his own cross and come after me cannot be my disciple.
Detachment and discipline will help you to put God first in your live above everyother thing. If you pay the price now, you will win the crown later.
(23rd Sunday in the ordinary time, Year C)