A WORD FOR TODAY 9 DECEMBER 2019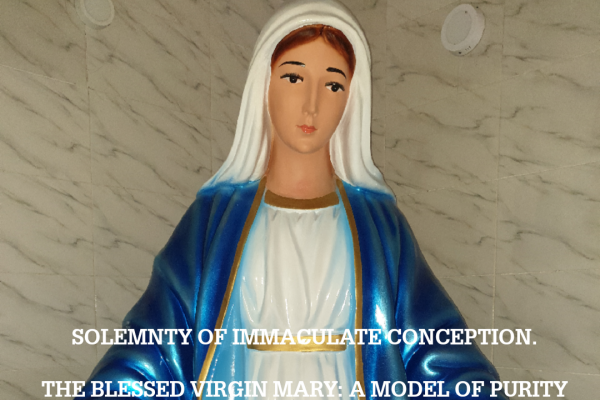 A WORD FOR TODAY
THE BLESSED VIRGIN MARY: A MODEL OF PURITY
Today we celebrate the Solemnity of the Immaculate Conception of the Blessed Virgin Mary. It is the doctrine that Our Mother Mary was conceived without original sin by merits of her son Jesus Christ and this grace made her to give consent to God's will when the Angel Gabriel came to announce the Good News to her as we have recorded in the gospel reading of today. This teaching which has been believed from a very long time in the Church came to be pronounced as a dogma of faith by pope Pius IX in the papal bull 'Ineffabilis Deus' in 1854._
This is not just a celebration of our Lady as a special woman whom God chose for a specific mission of being the Mother of our Lord Jesus Christ, but more importantly, it reveals the greatness and power of God who had to act upon the Blessed Virgin Mary through His grace so that she will not inherit the original sin from our first parents, Adam and Eve. The singular reason for this action is that she was going to give birth to the Son of God who is holiness Himself and as a result of that, God will not want the womb that was to carry His Son to be tainted with sin.
In the first reading of today we see how sin came into the world through the disobedience of Adam and eve at the garden and immediately after the fall God spoke about what will happen in the future that will bring about the redemption of man. The seed of the woman is Christ and the woman is our Blessed Mother and over time this promise of God came to be fulfilled by the birth of our Lord Jesus Christ._
By virtue of her role as the Mother of our Lord Jesus Christ, the Blessed Virgin Mary has been given to us by God as a model and example of purity that we could emulate and look up to as we journey through this sinful world. God's grace was made manifest in her and the same grace comes from God to us from time to time to help us in our daily living so that we can overcome sin, conquer the world and all its temptation and be worthy to enter into the kingdom of heaven. We have been chosen by God to be holy and blameless and we must work hard everyday to live up to this calling and show the world that we belong to God.
Our Mother Mary is a perfect model of purity because she said yes to God in obedience and allowed His will to be done in her life. She did not disobey God like our first parents, but in humility accepted to let God make use of her for the good of humanity. She did not brag about this privilege but silently played this role and today she is the greatest intercessor that we have who is always ready to take us to her son our Lord Jesus Christ.
To come to our Mother Mary, is to find our Lord Jesus Christ and to come to our Lord Jesus Christ is to find our Mother Mary. They are inseparable, because God's grace and love made it possible. We gain more when we accept the Blessed Virgin Mary as our Mother and give her honour as God has honoured her. The greatest honour we can give to her as her children is to learn from her to be holy and pure in our words and actions and to emulate her humility and simplicity in dealing with other people.*_
Our Mother Mary is always available to help us through her maternal intercession and care. We must pray our Rosary everyday and honour her and we must increase our devotion to her because she is a loving Mother whom the Lord has given to us to teach us the way to heaven, but also to be an inspiration and model to us in living a life worthy of our calling as His children. She is our mother most pure, most chaste, mother inviolate and undefiled. She will help us to grow in holiness if we learn from her and stay close to her._
Good morning dearest one. Smile😊as you do your work and fo have a blessed New Week. May God through the intercession of our Mother Mary give us the grace to overcome sin and live a holy life always. Amen. And may the Almighty God bless you: the Father and the Son and the Holy Spirit. Amen.
*Meditation:* Genesis 3:9-15,20/psalm 98:1-4/Ephesians 1:3-6,11-12/Luke 1:26-38
*Watch-Word:* I am the handmaid of the Lord; let it be to me according to your word.
_*O Mary conceived without sin, pray for us who have recourse to you.*_