A WORD FOR TODAY 6 MARCH 2020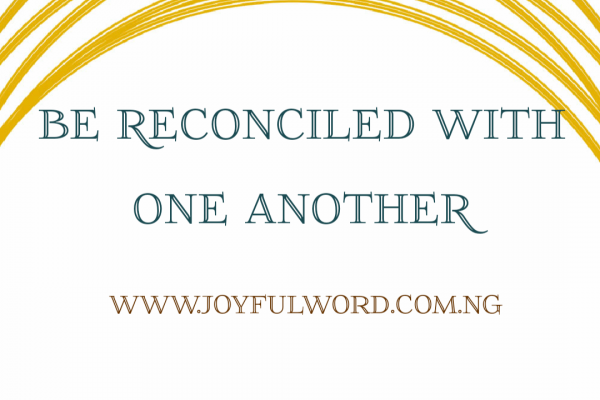 A WORD FOR TODAY
BE RECONCILED WITH ONE ANOTHER
Many times we tend to bear grudges in our hearts for others whom we feel angry for what they have done to offend us and some persons can be bitter to the extent that they will be looking forward to a time they will pay you back for what you have done to them.
This season of lent is a time we are expected to reconcile with God and with our neighbour. We gain nothing when we bear grudges in our heart for others, instead of making us strong, we become weak, bitter and sad.
If the Lord should mark our guilt, non of us will be able to stand before Him. But He is always looking forward to welcome us back even when we fall into sin from time to time. He expects us to return to Him so that we shall live and prosper.
To reconcile with one another is to be at peace, because when we forgive those who offend us and also ask forgiveness from those we have offended, we can be like Jesus who came and died on the cross for our sake in order to reconcile us with His Father.
Reconciliation brings joy, therefore, never go to offer the Lord a sacrifice with a heart full of wickedness and unforgiveness. Take a courageous step and settle the rift between you and your brother or sister and then come and honour God with your gifts and reconcile with Him also. As you have accepted Jesus and left your old ways of life, do not look back anymore, keep moving forward.
Good morning dearest one. Smile😊 as you do your work and do have a peaceful day. May your reconciliation with God and your neighbour bring you everlasting joy and peace. Amen. And may the Almighty God bless you: the Father and the Son and the Holy Spirit. Amen.
Meditation: Ezekiel 18:21-28/Psalm 130:1-5,7/Matthew 5:20-26
Watch-Word: Out of the depths I cry to you, O Lord; Lord hear my voice.
Do not be carried away by the gains you have recorded in fighting evil, keep moving forward until you reach your goal.
(Friday of the first week of lent. Day 9)