A WORD FOR TODAY 9 MAY 2020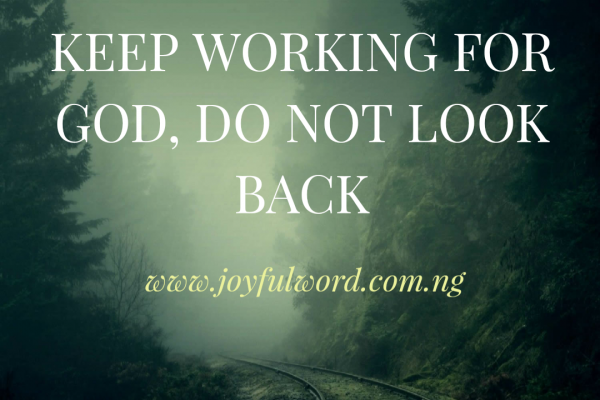 A WORD FOR TODAY
KEEP WORKING FOR GOD, DO NOT LOOK BACK
"The next sabbath almost the whole city gathered together to hear the word of God. But when the Jews saw the multitudes, they were filled with jealousy, and contradicted what was spoken by Paul, and reviled him. And Paul and Barnabas spoke out boldly, saying, "It was necessary that the word of God should be spoken first to you. Since you thrust it from you, and judge yourselves unworthy of eternal life, behold, we turn to the Gentiles."(Acts 13:44-52)
Our life on earth is never an accident, but something that was in God's plan before we were born. We were not created just to come and admire the earth, but to play our God given role to make the world a better place and to serve God well here on earth so as to be able to live with Him in heaven.
Paul and Barnabas in the first reading of today were busy doing the work of the master which He assigned them and some of the Jews became jealous of the impact of their message in the lives of the people and tried to contradict what they were saying and the good work they were doing, but that did not stop them from witnessing about Jesus in whose name they were saved.
When you choose to follow God's way and to do what is right, be rest assured that not everyone will accept you and some may be jealous of your achievement and will work for your downfall. They may try to detract your name and integrity and may incite others to hate you and persecute you. In such moments, you do not need to give up, but to see it as an opportunity to keep proclaiming the name of Jesus which is above every name and to keep working for God.
Jesus in the gospel reading came to show us the way to the Father. He did a lot of good works, but He was persecuted, He suffered in the hands of those He came to save and eventually He was killed. However, all that He suffered did not stop Him from doing what He came to do. He continued to do the will of the Father and He won us victory in the end.
When you experience jealousy and wickedness in the hands of people, do not be discouraged and never stop doing good, instead, use that opportunity to pray in the name of Jesus for the grace to persevere in your good works till the end and also to forgive those who try to injure you through their words and actions. There is power in the name of Jesus and whatever we ask in that name which is in accordance to the will of the Father will be granted.
Never stop doing good works, because of persecution or rejection. Do not stop doing good works because people lie against you and incite others to do the same out of jealousy, hatred and wickedness. Use their attitude as a motivational base to do more good in the name of Jesus and if you need the strength to overcome them, pray in the name of Jesus and the Father will give it to you and His name will be glorified. Try also as a child of God not to let your heart be filled with jealously of people's achievement so as not to become an instrument of destruction in the hands of the evil one.
Good morning dearest one. Smile😊as you do your work and do have a splendid weekend. May the name of Jesus work for you at all times and may you never give up when you face persecution. Amen. And may the Almighty God bless you: the Father and the Son and the Holy Spirit. Amen.
Meditation: Acts 13:44-52/Psalm 98:1-4/John 14:7-14
Watch-Word: Whatever you ask in my name, I will do it.
As long as you are doing the right thing in life, you must be disposed to face rejection and persecution. Everyone will not like you. Take Jesus and the apostles as an example.
(Saturday of the Fourth week in the Ordinary Time. Cycle A)