A WORD FOR TODAY 9 SEPTEMBER 2021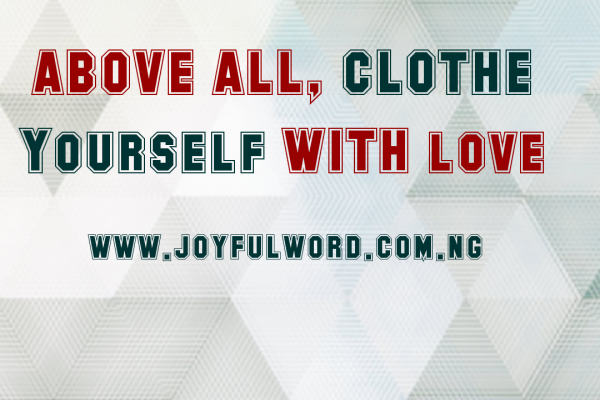 A WORD FOR TODAY

ABOVE ALL, CLOTHE YOURSELF WITH LOVE.
_Put on, as God's chosen ones, holy and beloved, heartfelt compassion, kindness, humility, gentleness, and patience, bearing with one another and forgiving one another, if one has a grievance against another; as the Lord has forgiven you, so must you also do.(Colosians 3:12-13)_
_*Eventhough as Christians, we no longer belong to darkness and have renounced evil ways, we do not become angels overnight. We need to struggle with our human inclination to sin. Hence, the need to make daily effort to imbibe the virtues of God.*_
_To gain virtures demand constant practice. It is not an automatic process. We need to consistently dispose ourselves to the things of God and what he wants._
_*It is not an easy thing to stop completely the vices of this world. We go through a lot to win the battle over our flaws. However, we must not let it discourage us. While we praise God for our successes, we must allow him forgive our excesses and take courage to continue trying.*_
_We must make effort to stop judging, or condemning people but loving them. We must make effort to clothe ourselves in love. Let everything that we do reflect the love of God. We must even go a step further to love our enemies and do good to those who hurt us just as Jesus tells us in the Gospel of the day._
_*To be a true follower of Christ we must be ready to do the things that He did and the greatest of them all is love. He loved us unto death and He forgave those who killed Him. It is a difficult thing to do, but that is the way to be happy in this life and to be Christ-like. Therefore, work on your capacity to love not just those who love you, but even more those who hate you and cause you pain. The measure you give, will be the measure you will get. Give mercy and you will receive mercy, forgive and you will be forgiven, judge not and you will not be judged and so on.*_
_St Peter Claver who we celebrate today, is considered a heroic example of what should be the Christian praxis of love and of the exercise of human rights. May he intercede for us as we do our best to practice Christian love._
_*If we love one another, God remains in us, and his love is brought to perfection in us.*_
_Good morning dearest friend. Do have beautiful day as you turn your work into an expression of Christian love. *And may the Almighty God bless you: the Father and the Son and the Holy Spirit. Amen.*_
*Meditation:* Colosians 3:12-17/Ps 150:1b-2, 3-4, 5-6/Lk 6:27-38
*Watch-Word:* Let everything that breathes praise the Lord!
*Ensure that you are clothed in love and that all your actions today do good to someone around you even if they treat you badly.*
(Thursday of the twenty third week in the ordinary time, Year 1. Memorial of St Peter Claver )